This past year, Putnam Plastics teamed up with Bryant University's International Business program. The goal of this project was to help support student experiential learning. Involvement in this program enabled us to partner with a Bryant student consulting team consisting of senior year BSIB students. Led by Bryant University faculty, and coordinated and managed by staff from John H. Chafee Center for International Business, students researched and formulated a targeted business practicum capstone course project.
Putnam was lucky to be partnered with a driven group of Bryant International Business majors. Through their "International Expansion Research" for Putnam Plastics, the focus of their capstone project was to research and recommend whether Putnam should expand their presence in the Japanese market, along with recommending additional international markets.
A huge thank you and congratulations to our hardworking team of students! Not only did they win first place, including best presentation, but the team assisted through their research, in attending our first, successful show in Japan!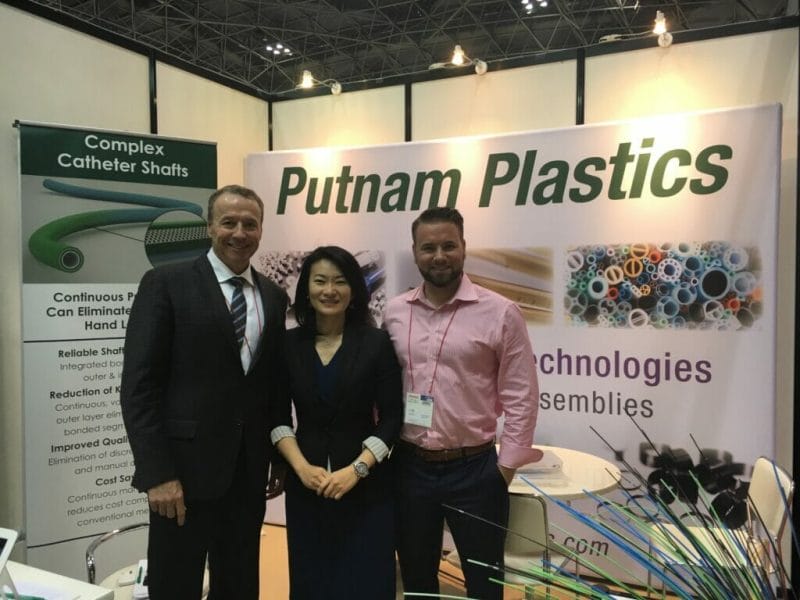 Pictured:
Jim Dandeneau, CEO; Bryant students: Adrianna Papadimitriou, Nicole Kelly, & Stephen Patierno, Ryan Dandeneau, Vice President, Kate Seaward, Marketing Manager at Final Presentation Celebratory Lunch
Jim Dandeneau, CEO and Ryan Dandeneau, Vice President at Putnam's booth at Medtec Japan 2017