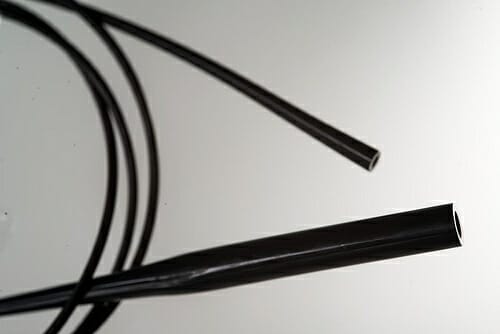 What is tapered medical tubing?
Extrusion cross sections can vary in size along their length. Such tapered extrusions are commonly used to create variable stiffness from proximal to distal ends or to ease connections at the proximal end. Inside diameters can remain constant, while the outside diameter changes along the end.
Tapered tubing, sometimes referred to as bump tubing, is an increase in the tubing diameter. This allows for smooth joining of differently sized medical devices or tubes. 
What materials can be used in a tapered catheter?
Almost all thermoplastic materials can be manufactured into a tapered structure. These include, but are not limited to:
Pebax
Nylon
Polyurethane
Polyethylene
Polyester
Thermoplastic rubbers
A wide variety of engineering polymers
What options should you keep in mind when procuring tapered medical tubing?
Although the options in tapered tubing are nearly infinite, you will have the most cost-effective tubing if the proximal and distal dimensions have a linear relationship. Non-linear tapered tubing is available, but adds a level of complexity to the medical component.
Tapered tubing can be produced with a wide range of:
polymers,
sizes,
stripes, and
multi-lumens
and with variable durometer technology.
Why would you choose tapered tubing?
Tapered tips are used in a large selection of medical device applications. For instance the tapered dilator tip of a vascular introducer set prepares the way for the larger end of the sheath to be inserted. Tapered tubing can also be employed as a strain relief, sometimes called a bend relief, at a connection point.
A larger diameter proximal end allows for more ease of assembly. The reduction in lumen diameter over the length of the shaft can create needed pressure in some catheter requirements.  
What medical devices is tapered tubing commonly used in?
Tapered or bump tubing is used for a variety medical device applications including
neonatal catheters,
peripherally inserted central catheter (or PICC line),
neurovascular and cardiovascular ports, and
drug delivery systems.
What ISO certifications is Putnam Plastics equipped to comply with?
Putnam's state-of-the-art custom tubing manufacturing facility is ISO 13485:2016 certified. With our ISO-compliant clean room, our medical device production processes meets the demand for greater regulatory controls.
Why is Putnam the best choice for tapered medical tubing?
Putnam Plastics has over 38 years of experience producing the widest range of single and multi-lumen tapered tubing.
As a global leader in medical device manufacturing, we have the expertise to provide the best custom design and engineering assistance for your specific application.