What is PEEK Catheter Tubing?
Polyether ether-ketone (PEEK) is a thermoplastic polymer that can be extruded into catheter tubing with desirable properties such as high tensile strength, buckling resistance, good pushability and radiopacity.
Why would you choose PEEK medical Tubing?
Unlike polyimide, PEEK is melt processable and can be extruded into small diameter tubes for vascular catheters and larger diameter, thin wall tubes for non-vascular applications, such as Natural Orifice Transluminal Endoscopic Surgery (NOTES) devices.
What are the available options and tolerances?
Putnam offers single lumen PEEK extrusions with diameters as small as 0.010 inches (0.254 mm) with wall thicknesses of 0.002 inches (.050 mm) and larger extrusions with diameters up to 1 inch (25.4 mm) with 0.010 inches (0.254 mm) wall thicknesses.Thin wall PEEK tubing can be manufactured semi-transparent or in custom colors. Putnam also offers plasma-enhanced printing on PEEK tubing. The best way to find out more about your many extrusion, material, technology and finishing options at Putnam, talk with one of our sales representative.
What other beneficial characteristics does PEEK tubing have for medical devices?
PEEK is well regarded in the medical industry due to its biocompatibility. Additionally the polymer's flexural modulus of 595,000 psi (4,102 MPa), nearly 10% higher than polyimide, provides excellent pushability and buckling resistance for thin wall tubes used in minimally invasive devices.
What other services or options are offered with PEEK medical tubes?
Putnam's plasma etching and laser machining technologies combine well with our PEEK tubing to make sure your product is properly labeled, identified and oriented with precise specifications.  
What medical devices or procedures is PEEK commonly used in?
PEEK vascular catheters provide strong and flexible, small diameter tubing.
Non-vascular applications such as endoscopic and laparoscopic procedures often demand larger diameter, thinner wall PEEK tubes.
What ISO certifications is Putnam Plastics equipped to comply with?
Our state-of-the-art medical manufacturing center is ISO 13485:2016 compliant. Putnam's skilled staff can produce prototypes through to full production of complex medical tubing in our dedicated clean manufacturing space within our 37,000 square foot (3431.4 square meters) facility.
What is the flexural strength of PEEK tubing?
PEEK tubing has high flexural strength.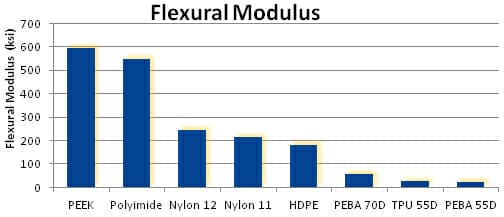 Why is Putnam Plastics the best choice for PEEK catheter tubing?
Putnam's skilled engineering and precision manufacturing teams have the expertise to extrude PEEK into large, thin walled tubing—most suitable for many leading-edge medical devices.
As a materials science innovator, Putnam offers trusted expertise and skilled manufacturing of medical tubing technology, worldwide. Talk about your medical device requirements with a Putnam engineer or sales representative to find out more about our custom PEEK catheter assemblies.