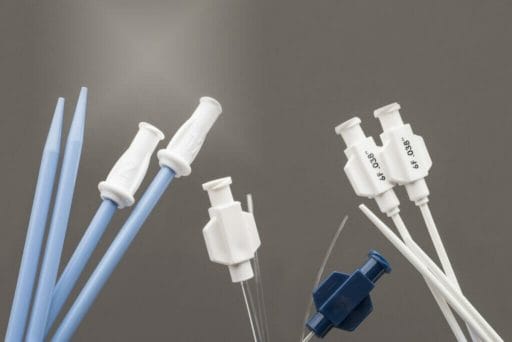 What is an insert molded tubing connector?
By molding connectors such as luers or hubs directly over an extruded component, manual assembly steps can be eliminated and a strong polymer-to-polymer bond achieved. Insert molded connectors are an ideal match for complex multi-lumens where access to each lumen is required and standard connectors are insufficient.
What is overmolding?
Our overmolding process allows for a fitting of connector to be custom molded over an extruded tube, bringing you one step closer to a finsihed cather or device assembly.
What are the advantages of insert molding connectors?
Insert molded connectors create a molecular bond with the tube. This allows for the tightest and safest seals for gas and fluid connections.
Which materials are typically used for medical tube connectors?
A wide variety of thermoplastics material can be used for connectors. The two main considerations in choosing a suitable material are bondability and physical properties.
What are some of the options available for insert molding connectors?
Connectors can be produced in a variety of forms for different uses:
Multi-port connectors
Bifurcated and trifurcated junctions
T and Y configurations
Barbed or threaded attachments
Manifold fittings
What medical devices commonly use insert molded connectors?
Insert molded connectors are used on common catheter shafts to the most complex medical device components. The shapes, sizes, and performance are limitless.
Why is Putnam the best choice for medical plastic tubing components?
As a specialist in advanced extrusion with precision finishing capabilities as well as a global tubing supplier, Putnam can leverage over 38 years of custom manufacturing to design and engineer high-performance medical tubing that exceeds your functional requirements with the most cost-efficient material and technology available.
Contact us to talk with one of experienced engineers or expert sales staff about how our expertise can work for you.