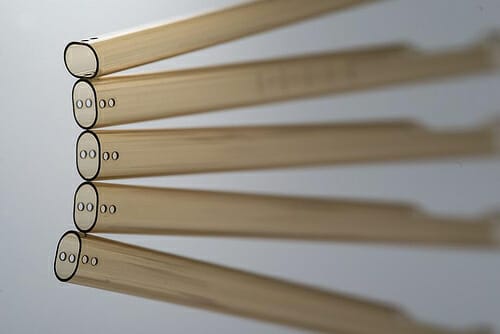 What is annealing?
Annealing is the process of exposing a product to a specific heat for a specific amount of time.
What are the advantages of annealing medical plastics?
A standard heat treatment process is designed to relieve the inherent stress created during the extrusion process. If annealed properly, the extrusion should not change in diameter over time, or when exposed to elevated temperatures.
Which materials typically require annealing?
Thermoplastics such as polyurethane, nylon and pebax are commonly annealed.
What medical devices are annealing typically used on?
Any component that is sensitive to dimensional or length change when exposed to elevated temperatures is a candidate for annealing.
How is the annealing temperature controlled?
Our ovens can be programmed to ramp or sustain temperature profiles to optimize the annealing effects.
Why is Putnam the best choice for extruded tube annealing?
Putnam can leverage over 38 years of custom manufacturing experience to engineer the best annealing process for your specific application. Our walk-in ovens allow medical plastics to be annealed vertically or horizontally.