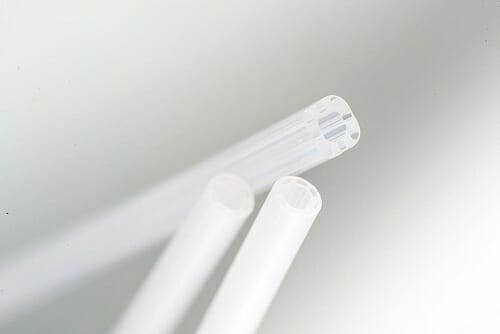 What are fluoropolymers?
Fluoropolymers are a high-performance material with a low coefficient of friction and high heat tolerance. They offer an inertness to most chemicals, along with strength and durability. Fluoropolymers are selected for many medical tubing innovations.
Does fluoropolymer tubing have other beneficial characteristics for medical devices?
Melt processable fluoropolymers such as perfluoroalkoxy (PFA) and fluorinated ethylene-propylene (FEP) have excellent low friction and flexibility properties required for many catheter applications. These materials are often selected for improved frictional properties over high density polyethylene, and its frictional properties are approaching those of PTFE.
What are the limitations of fluoropolymer tubing?
While it is challenging to bond to a fluoropolymer, Putnam has a process which activates the surface to improve bonding characteristics.
What configurations are available for fluoropolymer catheter liners?
Putnam Plastics can produce catheter liners in PTFE, FEP and PFA. These liners are ideal for many catheter applications that require low surface friction on the inner lumens. Putnam offers these tubes separately or as liners in complex tubes with multiple layers. These include multi-layer tubes that can be cut to length, tipped and printed to specification.
What medical procedures are fluoropolymer catheter liners commonly used in?
Due to their properties of biocompatibility, lubricity and chemical resistance, PTFE, FEP and PVDF are commonly used in minimally invasive procedures. To discuss how Putnam's expertise can the needs of your custom medical device, contact us today.
What ISO certifications does Putnam have?
Our state-of-the-art medical manufacturing center is ISO 13485:2016 certified. Putnam's skilled staff can produce prototypes through to full production in our dedicated clean manufacturing space within our 37,000 square foot (3431.4 square meters) facility.
What are the technical specifications of melt processable Fluoropolymer?
PTFE Capabilities
Putnam's PFTE tubes and liners have a coefficient of friction in dry conditions against steel of 0.05-0.10.  Sizes are available with inside diameters from 0.009 to 0.090 inches (0.23 mm to 2.29 mm) and wall thicknesses of 0.0005 to 0.002 inches (0.013 mm to 0.051 mm).  Putnam offers these tubes separately or as liners in complex tubes with multiple layers.  These include multi-layer tubes that cut to length, tipped and printed to specification.
Melt Processable Fluoropolymer Capabilities
FEP = fluorinated ethylene propylene
PFA = perfluoroalkoxy copolymer
ETFE = ethylene-tetrafluoroethylene
EFEP = ethylene fluorinated ethylene propylene
Liners
Inside Diameter
0.004 – 0.090 inches
Minimum Wall Thickness
0.0025 inches
 
 
Beading / Monofilament
Outside Diameter
0.010 to .090 inches
Round or shapes
 
Continuously spooled or cut
 
 
 
Tubing
Maximum Outside Diameter
0.200 inches
Maximum Inside Diameter
0.190 inches
Wall Thickness
0.005-0.0350 inches
Why is Putnam the best choice for fluoropolymer catheter liners?
As a materials science innovator, Putnam offers trusted expertise and skilled engineering in medical tubing technology, worldwide. To get your most demanding specifications with good speed to market and competitive rates, talk with a Putnam engineer or sales representative.