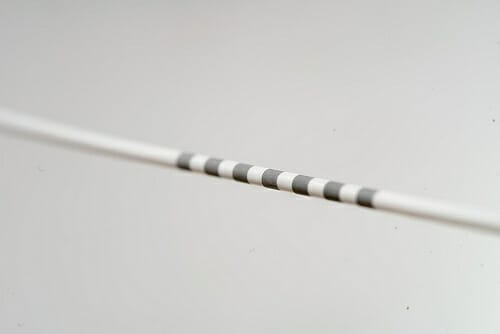 What is plasma etching?
Plasma etching for medical tubing is a treatment to facilitate printing on polymers which are resistant to fusing with ink. Plasma heat surface treatment equipment allows for preparation of hard surfaces of resins such as PEEK and polyimide before printing, and a variable temperature oven with a conveyor for ink curing is used after printing.
Putnam's plasma technology uses advanced equipment for sustained and computer-controlled electrical discharge. The plasma reacts with the polymer surface of the component increasing the surface energy, which facilitates better wetting and bonding of the ink. Additionally, the plasma oxidizes any organic surface contaminants that might interfere with the bonding of the ink to the component.  
What are the advantages of Putnam's plasma etching technology?
When compared to other methods of improving bondability, Putnam's plasma pre-treatment involves little to no heat transfer into the polymer component, preserving its mechanical dimensions and properties. It involves no toxic chemicals, generates no toxic by-products, and reduces the need for toxic chemicals such as solvents in the ink, making it medically and environmentally friendly.
Which materials might require plasma etching?
PEEK, thermoset polyimide and other chemically-resistant polymers are increasingly being used for minimally invasive applications due to inherent strength and chemical-resistance properties. These same material properties create greater challenges for pad printing.
Putnam Plastics' plasma pre-treatment makes the outer surface temporarily receptive to chemical adhesion of the pad printing ink. Within a few days of being printed, the polymer surface recovers its chemical resistance for optimal performance in the field.
While plasma pre-treatment increases ink adhesion on all plastics, it is of greatest value when used on polymers inherently resistant to thermal and chemical degradation such as PEEK and thermoset polyimide.
What are some of the options available for plasma-etched medical plastics?
Putnam Plastics offers several different etching technologies that are used to properly prepare the tubing surface for additional processes.
Surface etching can allow dissimilar materials to bond in a coextrusion structure.
Etching is also commonly used to activate the tubing surface to better accept ink.
Dedicated pad printers are capable of printing catheter shafts up to 80 cm (32 in) in length with 360 degree printing roll options.
What are the ink and material options?
Putnam Plastics offers a wide variety of inks designed for medical applications. The inks come in a variety of colors. Talking with one of our knowledgeable sales representatives is the best way to hone in on the best choice for your medical device.
Which medical devices and procedures are plasma-etched tubings commonly used in?
Minimally invasive catheter shafts, such as those used in for interventional radiology and cardiology, are comprised of extruded thermoplastic or thermoset materials, depending on the medical device requirements.
Catheter devices often require printing along the length and around the circumference of the shaft with markers for use in medical procedures.  Plasma etching is used to activate the surface to provide superior bonding properties. 
What ISO certification does Putnam Plastics have? What about quality assurance?
Putnam's leading-edge medical tubing manufacturing facility is ISO 13485:2016 certified. Our dedicated clean room manufacturing space follows strict ISO standards.
Putnam's printing operation is in a climate controlled room and has the capability of maintaining temperature and humidity to ensure repeatable printing processes.  
Why is Putnam the best choice for plasma etched catheter tubing?
Putnam's printing capabilities offers device manufacturers a one-stop-shop for extrusions and accompanying finishings such as functional markings and branding—to increase speed to market and your ROI.
Talk with one of our knowledgeable reps to discuss your custom medical tubing needs.